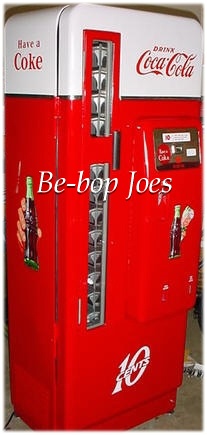 The Cavalier 96 coke machine is absolutely one of the most popular machines around. Produced between 1958-1959 by the Cavalier corporation this model has all the desirable features – rounded corners, slant shelf, glass door, embossing, and as an added bonus when you deposit a coin the "Have a Coke" button lights up until you remove the bottle.

Like all the other Cavalier machines this machine was produced exclusively for Coca Cola.
All  Cavalier 96 coke machine models were painted ice berg white on the front door and the rest of the machine was painted Coca-Cola red. When restored some machines were painted the typical Red & White as seen in the above photo.
All Cavalier-96's also came with the words "Drink Coca-Cola" embossed on the top.
Another feature the  Cavalier 96 soda machine came with was an electric coin mech that could be adjusted to accept various prices.
Out of all the soda machines that have been produced over the years, only a few have received the title of classic. The Cavalier 96 is one of them. The C96 has nine shelves which are capable of vending 96 bottles, ranging in size from 6 1/2 to 12 ounces. A unique feature for a fifties machine is the electric coin mechanism which eliminates the need to push down a handle to vend your soda. This allows you to set your machine for current prices and makes the C96 a perfect choice for restaurants and retail locations. Another feature of the 96 is the red Have a Coke lens on the front door which illuminates when the proper amount of money has been inserted. One of the most sought after machines ever produced, the 96 is an undisputed classic. Available with an all white front door or the more traditional red and white.