Compressor Repair
Compressor Repair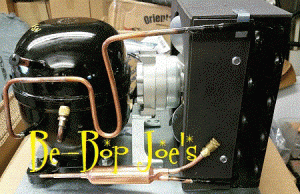 At Be-Bop Joe's LLC, our Soda Machine Compressor Repair consists of and is not limited to the following:
Not only do we perform restorations on vintage soda machines. If our customers wish to have a facelift done on their existing vintage soda machine compressor or if their antique coke compressor unit is in need of repair, Be-Bop Joe's is the one for you. We can repair or refurbish various types of soda machine compressors. A few names include: Vendo, Cavalier, Westinghouse, Dixie-Narco and many more. Please call for details at 703-606-0498 or email us at bebopjoes@comcast.net
A new energy efficient compressor
New condenser
All new fan motors
New wiring with surge protector
A new temperature controller
New copper capillary tube, if required
Repair or Replace damaged lines
12 month warranty – call for details
Existing base plate repainted – will design a new base if required
Freon
Existing evaporator repainted
All inquiries, please email bebopjoes@comcast.net or call 703-606-0498. Quoted prices do not include shipping.
Click on the images below to look through our packaging process for restored compressors!
*The photo at the top of the page is an example only. Soda machine compressor units will vary in appearance due to design specifications and other requirements suited specifically for each customer's needs.