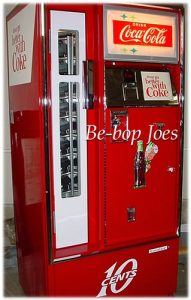 The Cavalier 64 coke machine, CSS-8-64G is a 8 selection bottle vendor that was produced by Cavalier corporation in the mid 1960's. The CSS-8-64G is similiar to the CSS-8-64 except it has a light up 3D sign.This machine is known as a "Slant Shelf" vendor because it uses slanted shelves to vend its drinks. This is a major plus because it allowed tthe machine to vend all sorts of drinks in various bottle sizes.
This type of machine is known by collectors as a "Square Corner" because the top does not have rounded corners like many of the older machines. Several years ago "Square Corner" machines were typically passed up by most collectors and completely ignored. Today these machines are more popular than ever and have started to rise in value. The main reason for the quick turnaround is due to the fact that the older round corner machines are in limited supply and are getting real expensive. This has forced collectors and first time buyers to look at the more affordable, easier to find, square corner machines.
Along with the Cavalier 64 coke machine, CSS-8-64G Cavalier also produced the USS-8-64, CSS-8-64, the CS-64D, and probably more.